Course Description:
This course is designed to demonstrate how to get the most out of Faro 3D laser scanner, data processing and creating different deliverables. The course presents the fundamentals of scanning, data collection techniques, planning a project and process the scanning data, in addition, to sample of different deliverables that could be created rom the scan data. This enables users to efficiently scan and process the site big or small to achieve the expected accuracy, and prepare the collected data for further processing and modeling down the stream efficient and smoother workflow.
Instructor:
Mohamed Hassanein, Cansel
Students will learn how to:
• Evaluate and plan a scanning project
• Configure the scan for optimal scan parameters
• Utilize different techniques of registration
• Data transfer to PC and preparation for process
• Registration of the scanned data in an integrated point cloud
• Different techniques for Data verification of authenticity (QA/QC)
• Colorization and improvement of colour mapping to point cloud
• Different application-based workflows.
Prerequisites:
This course is indispensable to anyone seeking to leverage the strengths of 3D laser Scanning technology into a cohesive surveying systems. Whether you are learning to use your Faro Focus 3D and scene system for the first time, or learning to use what you have more efficiently, you will find this class well worth your time.
Agenda:
This training includes two short breaks (15 minutes each) and a lunch break (1 hour)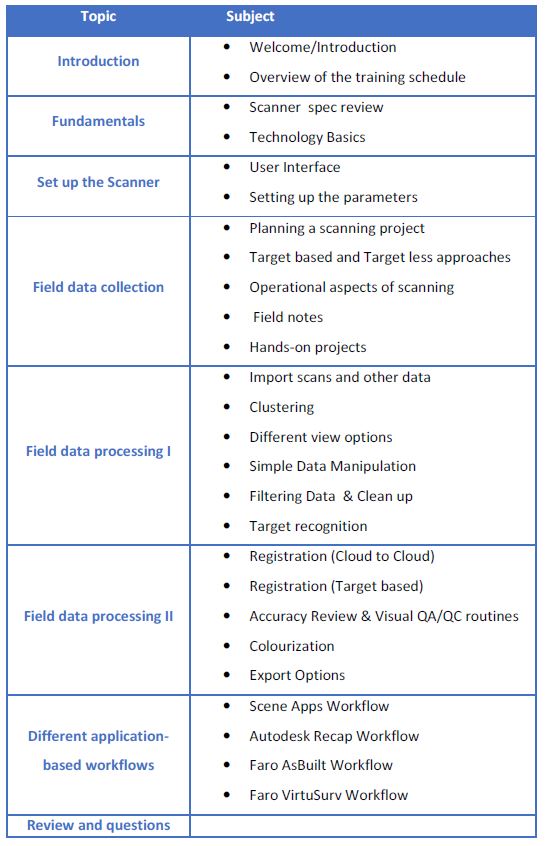 TRAINING COURSE DETAILS & AGENDA